As you know, RFC has a number of forums/sub-forums which may seem a little intimidating at first. Just like when moving in a new home, you can expect that it will take a while for you to become familiar with all of RFC's nooks and crannies.
Here are a few tips to help you in this respect and make your navigation of RFC Forum easier and a lot more fun.
Portal pages -
In addition to showing the latest announcements and polls, portal pages also list the different sub-forums and the most recent threads relevant to a particular section. At the moment, we have a different portal page for
'Sunny Raw Lifestyle'
,
'Raw Freedom Kids'
, as well as for the
'Green Guide'
.
There is also a main portal page for the whole of RFC located
here
.
Main Forum Index -
This page shows all of the main forums and some of the sub-forums. It is particularly helpful when you wish to create a new thread.
New Posts -
You can find out about the new posts since your last visit by clicking on the 'New Posts' link in the navigation bar.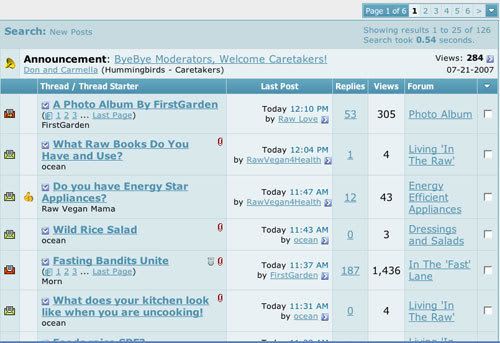 Forum Jump -
If you scroll down to the bottom of a page while navigating RFC, you'll notice a little box saying 'Forum Jump'. It allows you to select which forum or sub-forum you wish to go to next.

Thread Tools -
With the help of this feature, you can quickly print or email a page, or subscribe to a thread.

Quick Links -
Here is another handy little tool you can use to do a number of things, such as reading today's posts, going to your User Control Panel or reading your PMs (private messages).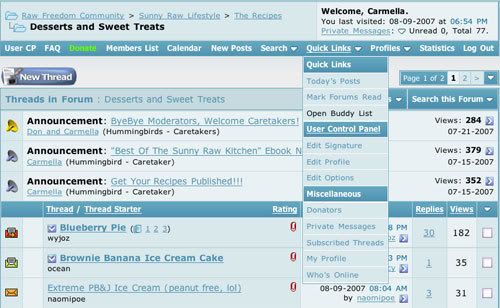 Similar Threads -
If you scroll to the bottom of a thread, you will notice a list of other similar threads.

I will continue to add more helpful tips as we go so stay posted. Am I forgetting anything? Please don't hesitate to let me know!
Hope this helps make your stay more enjoyable!
Blessings,
Carmella